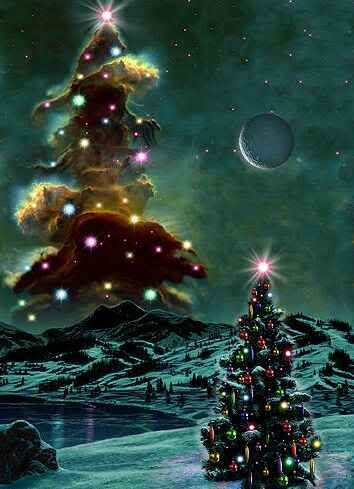 It's Christmas eve. The wind whips my scarf as I walk up the hill to the kids' house to watch Sophie and Hannah decorate their tree.
I try to picture another town, another age, a couple millennia ago. Did candles burn brightly on that night, that silent night? Did someone walking up a hill see tiny lights flickering below as I do now? Was it cold? Was it lonely?
I look for that one elusive star which is the focus of this night. Sadly, the cloud cover doesn't reveal any stellar wonders. So I turn, instead, to the Hubble telescope and post this favorite shot which reveals the beauty and mystery of it all ...
We travel in the dark but if we look closely enough we can find multiple points of light to give us hope. Sometimes they are as near as the eyes of a child hanging an ornament on a Christmas tree. Other times, they are more elusive and require patience and perseverance. And belief. How good are we at kindling a flame in others? In ourselves?
Thomas Merton envisioned all humanity as tiny points of light - little pilot lights, human sparks.
Have a peaceful and gentle holiday. Keep shining.
Thanks for reading my blog.